Recognizing the importance of MSMEs to business networks and disaster recovery
Micro, small and medium enterprises (MSMEs) by some counts represent as much as 90% of all firms while accounting, on average, for 70% of employment and 50% of gross domestic product (GDP). As such, MSMEs are a major driver of poverty alleviation and economic growth, and the UN has recognized that investing in them yields dividends that can help to achieve the 2030 Agneda and Sustainable Development Goals (SDGs).  
The SDGs recognize the urgent need to reduce the risk of disasters. Natural hazards and conflicts can reverse years of development gains, risking the achievement of the SDGs. Several goals – such as those related to poverty reduction, combatting climate change, protecting ecosystems and building sustainable cities and communities – are also integral to building more resilient businesses and societies. 
When a crisis happens, MSMEs – like the societies around them – are affected. COVID-19 has paved the way for us to rethink our strategies and approaches to supporting people, livelihoods and societies at large. Now, more than ever, we feel there is a need to view risks holistically and continue to integrate disaster and climate risk into all levels of development programming. 
At the Connecting Business initiative (CBi), we aim to strengthen the capacity of private sector networks to work alongside governments, humanitarian and development actors to prepare for, respond to and recover from crises. Our vision is to improve the resilience of societies and businesses, with more lives saved and livelihoods safeguarded. 
That includes helping MSMEs – what we generally define as firms of less than 300 people – to build their ability to adapt to and recover from hazards, shocks or stresses without compromising long-term prospects for development. Three objectives within this goal are to invest in building resilient supply chains, prepare for disruptions in the delivery of products and services, and to establish companies' capacity to immediately recover from disasters. 
Working with MSMEs in the Philippines
In the Philippines, for example, CBi Member Network the Philippine Disaster Relief Foundation (PDRF) carries out awareness promotion and training on business continuity planning for PDRF member companies and runs a few initiatives in partnership with other stakeholders. 
One such example is SIKAP, an all-in-one source of practical and useful business tips, available loan programs from government agencies and private sector organizations, and mentorship opportunities for MSMEs. SIKAP was developed by PDRF with the support of CBi and in partnership with the United Nations Development Programme (UNDP) and the UN Office for the Coordination of Humanitarian Affairs (UNOCHA). 
Another initiative is the MSME Resilience Core Group, a collaboration with the Department of Trade and Industry, DOST-PAGASA, the Office of Civil Defense, and PDRF, whereby all members signed a Pledge of Commitment to strengthen the adoption of business continuity management as well as disaster risk reduction and climate change adaptation for MSME development across all regions in the Philippines. 
Almost all CBi Member Networks support MSMEs and offer business continuity planning or other trainings to improve disaster preparedness, response, and recovery. To find out more, follow us on Twitter, LinkedIn, or Facebook (see icons at the bottom of the page), or sign up for the CBi Newsletter. 
---
CBi Member Network quote cards about why MSMEs are important to the work we and our partners do were shared on CBi social media platforms in honor of #MSMEday21 that took place on Sunday 27 June.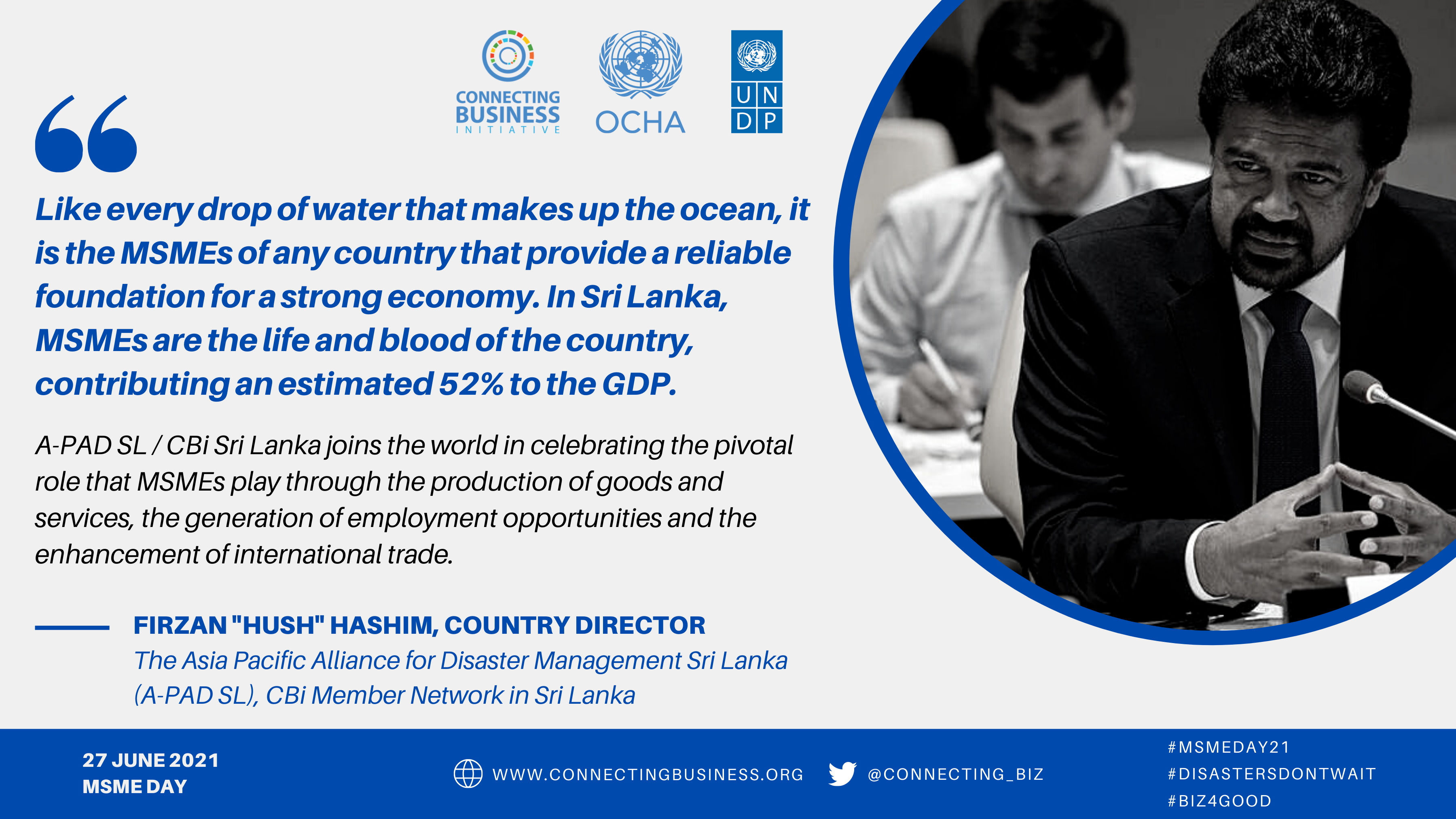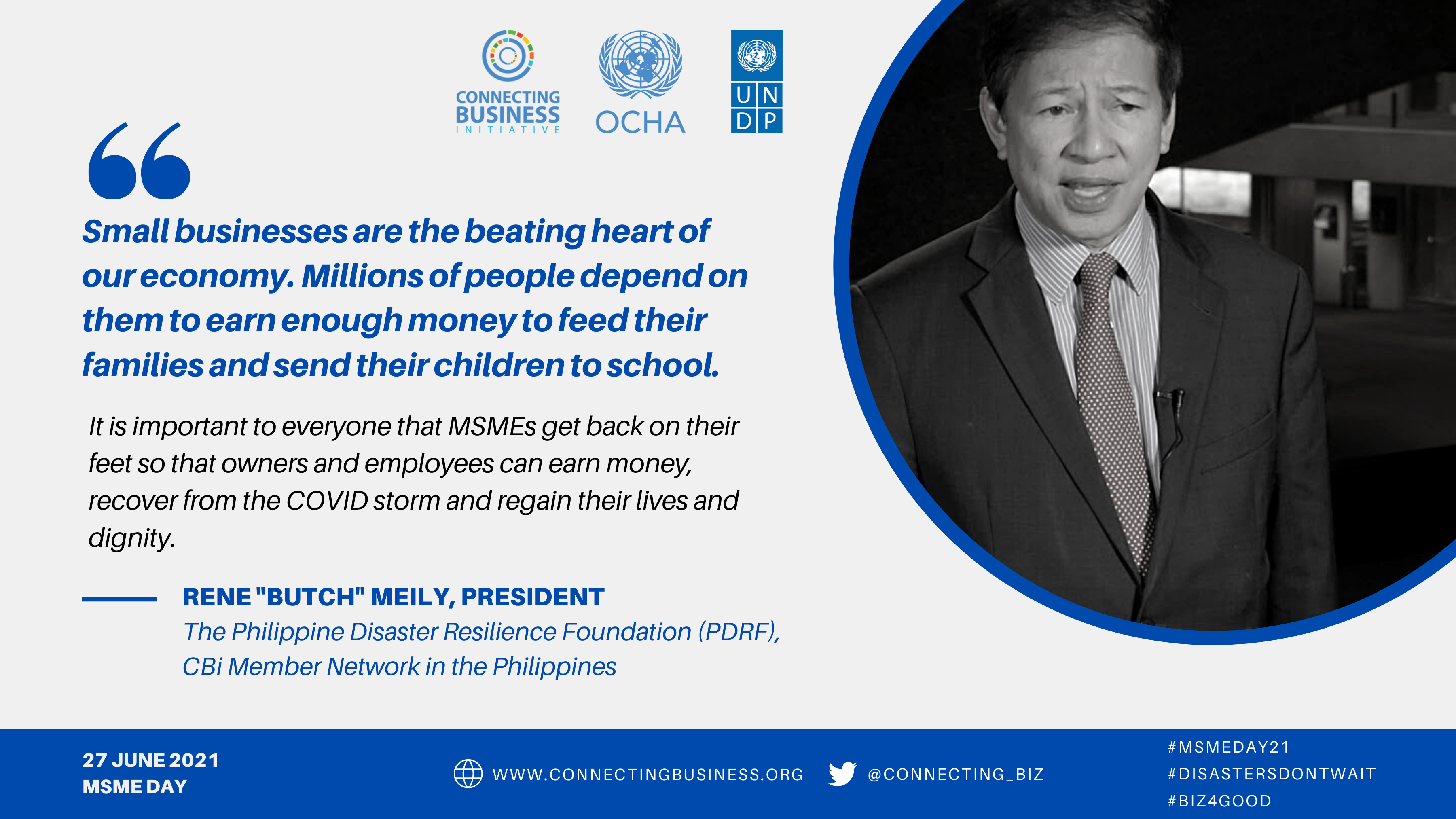 ---
CBi now consists of 11 member networks, and we are expanding. If you'd like to find out if there's a CBi network in your country, or learn more about how to promote resilience among MSMEs, please reach out to the CBi Secretariat: You can find us at connectingbusiness.org, on Social Media (Twitter, LinkedIn, Facebook), or by emailing connectingbusiness@un.org. 
Recognizing the importance of MSMEs to business networks and disaster recovery
29 June 2021
Shahnaz Radjy, Connecting Business initiative (CBi)