What can the private sector do to better engage women in disaster management?
Disasters don't discriminate, but their impact does – and women are often disproportionately affected. Businesses can play a key role in addressing this issue, for their own benefit and beyond.
The Connecting Business initiative (CBi) has launched a new publication that presents the importance of gender in private sector engagement in disaster management, as well as the interconnections between these themes. This document is a shared effort based on the knowledge of a large variety of experts and actors and a starting point to a new thematic area for CBi – it invites all of us to participate in the discussions and exchange ideas on how to bring the theme further.
Based on this document and the earlier CBi Gender Webinars (here and here), we can understand that there is a clear business case on gender.  
The Business Case for Disaster Management by the Private Sector  
Stable markets, healthy and secure employers, consumers who can purchase products and services, good governance and strong institutions are all vital to the functioning of the private sector. Therefore, there is a clear business case for private sector engagement as a key stakeholder across disaster management, as well as building long-term community resilience.  
Furthermore, when the private sector invests in building resilience of their assets – whether capital, facilities, or employees – it contributes to strengthening local capabilities for resilience and recovery. Including gender in such efforts is a win-win for everyone. 
Gender & Disasters 
Three key factors that fuel the greater impact disasters tend to have on women include:
Gender data bias: The world tends to have a structural bias towards men. An everyday example from the automobile industry shows how cars continue to be designed to the dimensions of an average man, and crash dummies, used in research to improve car safety, are made in the shape of a man. We therefore have data on car safety that holds a strong gendered data bias. As a result, women are 47% more likely to be seriously injured in a car crash in comparison to men – despite the fact that men are more likely to be involved in a car crash. Gender-bias data treats men as the default and women as atypical – and it gets even more life threatening in disaster management. Assets, and therefore disaster losses, are more often registered under man's family name, while women are overrepresented in the informal (and invisible) sector of the economy. By having a gender data bias in the structure of data collection, makes women´s losses invisible.  

Societal gender inequalities, such as access to education and land ownership, literacy rate, decision making power, poverty, responsibility of children and the elderly translate directly to higher vulnerability to disasters. Lack of access to education contributes to poverty, the highest single vulnerability factor to disasters as, for example, poor housing materials are more likely to be damaged in a hurricane or an earthquake. Without the ability to read, many standard early warning messages can also be misunderstood or ignored. 

Women tend to be excluded from decision-making: However, they can be powerful agents of change and play a key role within households, in the society and in the economy for greater resilience. 
Women, the economy, and disasters 
Women's economic equality is good for business. Companies greatly benefit from increasing employment and leadership opportunities for women, as that increases organizational effectiveness and growth.  
However, women are overrepresented in the hardest hit economic sectors in disaster, such as agricultural trade. This applies also to micro, small and medium size enterprises (MSMEs), in which women – whether as owners or workers – are deeply affected by informality, lacking access to safety nets and social protection.  
At the same time, MSMEs are the backbone of economies, representing 90% of businesses and accounting on average for 60-70% of employment as well as 50% of GDP. Women-led MSME recovery is therefore an important aspect in the overall livelihood recovery.  
Unfortunately, the responsibility of unpaid work in almost all societies falls to women. As the burden of such work increases in disasters, this allocation of time influences women's economic recovery, the survival of women-led MSMEs and the increased loss of jobs by women. This also limits women's ability to participate in community decision-making meetings for humanitarian response, making it even harder for their needs and concerns to be heard and factored in.  
Ways forward for better engagement of women in disaster management  
The CBi Gender publication states that even when the woman is responsible for the disaster preparedness work of a family business, it is often the man of the family who participates in business continuity training.  
When companies offer business continuity trainings to their value chain or to SMEs in their community, they can strive to include women as well as ensure that the characteristics referred to incorporate the realities of women.  
Businesses can also react to women's needs in disasters, by providing solutions tailored to them in water, sanitation and hygiene (WASH), health, shelter and protection, or food security. Addressing the digital gender divide and improving women's access to mobile phones also improves their access to many technology-based finance and humanitarian interventions and enable them to better work or manage their business from the safety of their homes in a disaster situation such as a pandemic. 
No matter the industry, geography, or culture, economies and businesses benefit from investing in women – and that applies in the case of disasters as well. 
CBi continues to develop its new thematic area of gender and next to come:A systematized business case and guidance tools on gender and disaster management for the private sector actors.  
What can the private sector do to better engage women in disaster management?
18 February 2021
Connecting Business initiative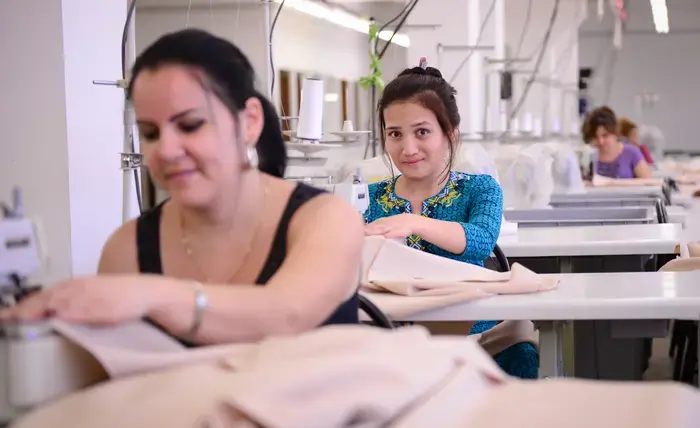 Photo credit: UNDP Turkmenistan / Claire Ladavicius